General Library..
---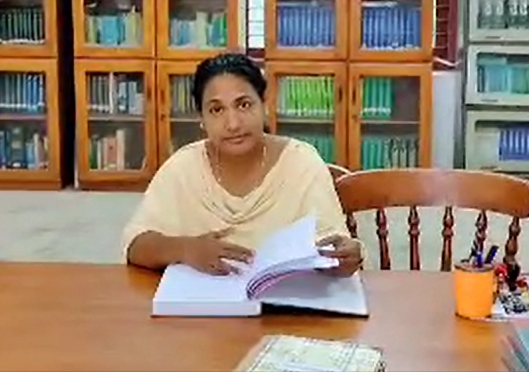 Sri. PREETHA C
Librarian
Library is an important cornerstone of an educational institution. Libraries are portals to all of the world's knowledge and librarians make sure that knowledge continues to be recorded and saved for the future, even as information-storage devices and formats change. Library is a service institution and library services are the most widely used and accepted in the modern world.
Our General Library is well established and located in a beautiful and peaceful environment with a good collection of books, journals, periodicals etc. The library helps to satisfy the information needs of the user community of this institution with a very energetic and userfriendly approach using all the facilities available in the library.
Library Collection
We have three types of collection of books available in the library and the total collection is 9161.
World Bank Scheme: 1672 books are available in the World Bank scheme.
Book Bank Scheme: There is collection of 1845 books purchased from the Book Bank Scheme of the SC/ST department of Government of Kerala. Under this scheme, students belonging to SC/ST category are entitled to avail maximum of 3 books which can be retained for a full semester.
General Books: General books are purchased using plan fund. 5644 books of different subjects are available in the general collection.
Journals,Periodicals and Newspapers
We have 9 National journals available in the general library about the subjects Computer Engineering and Electronics Engineering. Apart from that 14 periodicals are also available in the general library.
Library also provides major news papers in English and Malayalam.
Digital Library
Our library is member of National Digital Library. So all the staff and students can access the books, journals, manuals etc. available in the National Digital Library. We have 4 multimedia computer systems for digital library.
Rules for Using Digital Library
All the students and staff can access the books, journals, manuals etc. available in the National Digital Library
Silence shall be strictly maintained inside the library
Users have to produce their identity cards and sign the register at the entrance before entering the library.
Users of the library are not permitted to take personal copies of books or other printed material inside the section.
Multimedia facility is meant for educational purposes only, opening of other sites should be refrained.
Library facilities shall be stopped for those violating the instructions.
Use of social networking sites in the library such as – Twitter, E-mail, Orkut, face book etc. is strictly prohibited.
Project/Seminar work and other personal editing work is not permitted.
Users are allowed to search only e-books, e-journals, manuals etc. available in the National Digital Library.
Personal USB, Pen drives, CDs, DVDs are not allowed inside the sections.
Arrangement of Library Books
Books are classified and arranged according to the universally accepted Dewey Decimal Classification System. KOHA, the Integrated Library Management Software, which supports all the in-house operations of the library. For satisfying the user needs, we provide Open Access system in the library.
Membership
All the students and staff members of the Government Women's Polytechnic College, Kayamkulam are entitled to become members of the library.
Reference Section
Our library have a well-equipped reference section which contains encyclopedias, Dictionaries, Manuals etc.
Working Hours
The general library remains open from Monday to Saturday from 9.00 a.m. to 4.30 p.m. The library will remain closed on all Sundays and Public holidays.
Library Rules and Regulations
Identity Card is compulsory for getting access to the library
Strict silence should be observed in the library.
Personal belongings like bag, files etc. are not allowed inside the library.
Text books, printed materials, and issued books are not allowed to be taken inside the library.
Each student would be issue 3 books for a periods of two weeks (14 days) and for staff members 5 books at a time for a period of one month.
Failure to return books on or before the due date would compulsorily lead to penalty of Re. 1/- per day for each book and for all users.
Reference books like dictionaries, encyclopedias etc. would not be issued.
Using mobile phones inside the library is strictly prohibited.
Marking or scribbling on books, periodicals etc. are strictly forbidden.
Any person who does not report any damage to Librarian immediately after the issue of the book will be deemed to have caused such damage.
Any client who cause damage to any book / journal and periodicals of the library will be fined.
If the book is lost or spoilt, the borrower shall replace or pay the penal cost with fine due.
Hall ticket, TC or Mark List shall be issued and the caution deposit refunded only after obtaining the "No Dues Certificate" from the Librarian.
Click here for more Images....
Staff Details...
PREETHA. C

Designation
LIBRARIAN GR III

---

MOHAMMED ZIAD. A
ziadkrpm@gmail.com
Designation
NON TECH. ATTENDER

---
---
All courses offered are approved by the [...]
WPTC Kayamkulam right from its inception [...]
Principal's Message [...]
Right to Information Act 2005 mandates [...]
A committee is a group of people who [...]
Notices are a means of formal communication [...]
An information circular is a document [...]
Organization Chart is a hirarchical order [...]
Mandatory Disclosure [...]
Complients Registration [...]
Contact Address of the College [...]
---